This set of purely plant-based organic supplements BEAUTY FUEL and TIMELESS SKIN nourishes the skin's own collagen stock and specifically supports natural collagen production as a vegan anti-aging routine. It contains clinical dosage Lipowheat™ phyto-ceramides and plant-derived organic squalene, as well as organic tremella (=plant-derived hyaluronic acid), 80 mg of organic vitamin C (=100% NRV), organic OPC, organic silicon, plant-derived vitamin A (aka retinol), and clinically researched Holimel® organic melon extract. This set protects your skin's own collagen, stimulates collagen regeneration, promotes cell regeneration and improves skin hydration. Certified organic nutritional supplements, made in Germany, without additives, without genetic engineering, 100% vegan and packaged in high quality apothecary jar.
The Ogaenics Vegan Collagen & Anti-Aging Routine
The 100% vergan way to stimulate your natural colagen production and achieve more beautiful, smoother skin – in just 8 weeks. Existing collagen is protected and premature aging of the skin is prevented. Clinically tested, plant-derived ceramides help prevent moisture loss from the skin.
"A Specific Melon Concentrate Exhibits Photoprotective Effects from Antioxidant Activity in Healthy Adults."
L. Egoumenides, et al. Nutrients vol. 10,4 437. (2018)
"Oral administration of French maritime pine bark extract (Flavangenol(®)) improves clinical symptoms in photoaged facial skin."
Minao Furumura, Noriko Sato, Nobutaka Kusaba, Kinya Takagaki, and Juichiro Nakayama (2012).
"Polar lipids from wheat extract oil improve skin damages induced by aging: evidence from a randomized, placebo-controlled clinical trial in women and an ex vivo study on human skin explants."
Boisnic, S. Journal of cosmetic dermatology vol. 18,6 (2019)
"The moisturizing effect of a wheat extract food supplement on women's skin: a randomized, double-blind placebo-controlled trial."
Guillou, S. International journal of cosmetic science vol. 33,2 (2011)
Set Vegan Collagen from Beauty Fuel and Timeless Skin
Beauty Fuel | Organic Skin Radiance Komplex
BEAUTY FUEL is a purely herbal organic nutritional supplement for protecting your skin from the sun and other free radicals to prevent premature aging and collagen loss. The daily dose contains 492 mg of organic Tremella as a plant-based alternative to hyaluronic acid, 80 mg of organic vitamin C (=100% NRV), organic OPC, organic silicon, plant-based vitamin A (aka retinol), and clinically researched Holimel® organic melon extract. BEAUTY FUEL protects your skin against free radicals, stimulates cell regeneration, supports collagen formation and increases the skin's own protection against UV rays by 16 percent.
Timeless Skin | Organic Ceramide Komplex
TIMELESS SKIN is a purely plant-based organic food supplement with natural phyto-ceramides against dry skin and wrinkles. It contains the clinical dosage of Lipowheat™ phyto-ceramides from gluten-free organic wheat extract plus squalene from organic amaranth extract in each capsule. TIMELESS SKIN reduces wrinkles, improves the skin's ability to retain moisture, stimulates collagen production and plumps your skin in just 12 weeks – with a lasting effect, as confirmed by clinical studies.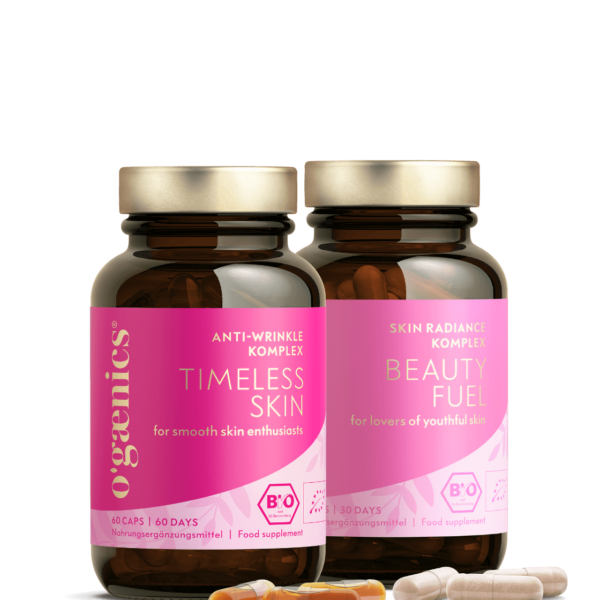 No, we do not recommend taking this kit during pregnancy. If you want to support your beauty during pregnancy, we recommend OILALALA Skin Omega Complex instead. If you would like further advice, please contact our consulting team.