Oilalala – moisture for skin and mucous membranes
OILALALA Skin Omega Complex is the perfect nutritional supplement for women with dry skin and mucous membranes. Because if you're on the pill or going through menopause or postmenopause, it can cause hormonal dryness of the skin, eyes, and vaginal mucosa, which can cause discomfort and itching. With Oilalala capsules, this problem is a thing of the past in just four weeks, as studies prove.
Oilalala regenerates and nourishes female mucous membranes and supports the skin's natural hydration with Omegia®, a unique organic sea buckthorn oil that hydrates and protects mucous membranes and skin.
Omegia® oil is extracted from both the berries and seeds of Tibetan organic sea buckthorn. Thus, this unique standardized composition of the oil contains a balanced ratio of all omega fatty acids . Besides omega 3 (as alpha-linolenic acid), omega 6 (as linoleic acid), omega 7 (as palmitoleic acid), omega 9 (as oleic acid), it is rich in antioxidants and plant sterols, which are important for human vitality.
In addition to omega fatty acids, OILALALA also contains vitamin A, obtained from natural beta-carotene, and vitamin E. Vitamin A helps maintain normal functions of mucous membranes and skin, while vitamin E helps protect cells from oxidative stress.
Two capsules OILALALA for skin and mucous membranes
Stress and hormonal changes (e.g. due to the pill or menopause) can promote dry skin and mucous membranes (e.g. eyes and intimate area), which can greatly affect your well-being.
With just two capsules of OILALALA Skin Omega Complex a day, you can make a big difference in just four weeks of use:
Improve the glow and moisture of your skin
Decrease itching, dry eyes and dry mucous membranes (e.g. vagina).
Reduce oxidative stress
The optimal dose recommended by research
The Omegia® oil contained in the OILALALA Skin Omega Complex has proven its effectiveness in clinical studies. In a study with 42 subjects over three months, significant improvements were noted after just four weeks: Less dry skin, less itching and dry mucous membrane in the intimate area, as well as less tired, irritated and dry eyes.*
The OILALALA formula is estrogen-free and contains only Omegia® Sea Buckthorn Oil from organic Tibetan Sea Buckthorn of the highest quality and purity, formulated for ultimate bioavailability. The manufacturing process (supercritical CO2 extraction) is environmentally friendly and solvent-free.
The capsules are made in Germany, without additives, 100% vegan and packaged in a high quality apothecary jar.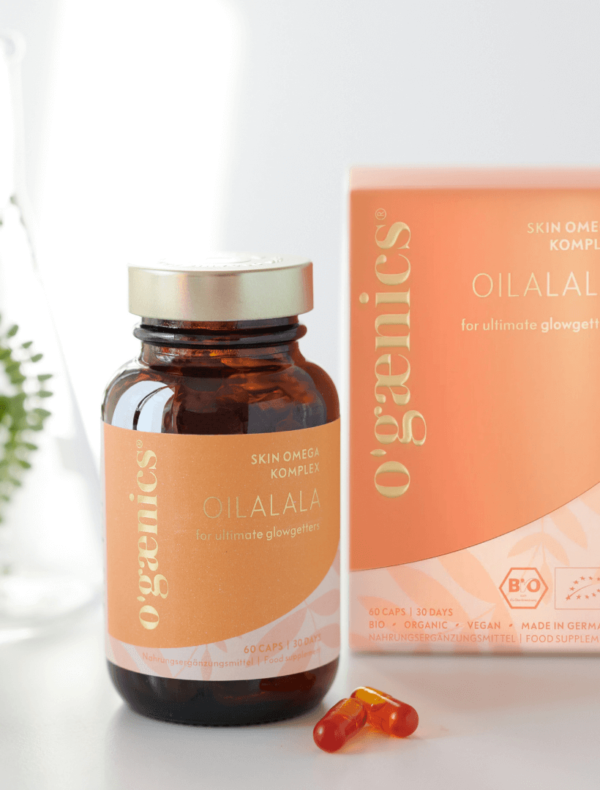 "
Effect of Omegia® softgel on female mucous membrane and overall wellness"
Tina Yuen, MD, Michael Yuen, Phyllis Nip, Ken Wong (2020).
Further studies with other dosages:
Study with intake of four capsules per day plus topical application of sea buckthorn cream for three months.
"Effects of oral supplementation and topical application of supercritical CO2 extracted sea buckthorn oil on skin aging of female subjects."
B. Yang et al, Journal of Applied Cosmetology. 27 (2009), 13-25
Study with intake of 6 capsules per day for 3 months
"Effects of sea buckthorn oil intake on vaginal atrophy in postmenopausal women: a randomized, double-blind, placebo-controlled study."
Larmo, Petra S et al, Maturitas vol. 79,3 (2014): 316-21
OILALALA supports with daily intake
OILALALA supports with daily intake