Organic sea buckthorn
Origin Tibetan plateau | supplier of omega fatty acids 3,6,7, 9, vitamin E and A (as beta-carotene)
Sea buckthorn, known as the "sacred fruit" in Tibet, is found in centuries-old medical texts in Tibet and China. The plant was used there to treat coughs, digestive problems, skin problems, wounds and burns, and even depression.
What active ingredients does sea buckthorn contain?
Sea buckthorn (Hippophae rhamnoides) is one of the strongest plants in nature. The orange berry contains twelve times as much vitamin C as an orange or three times as much vitamin A as carrots. It also contains the full spectrum of omega fatty acids (3, 6, 7 and 9) in a balanced ratio, as well as antioxidants such as vitamin E and beta-carotene. The precious omega 7 fatty acid is currently only available from 2 plant sources: Macadamia nut oil and sea buckthorn oil. However, there is twice as much omega 7 in sea buckthorn fruit oil as in macadamia oil. In addition, Himalayan sea buckthorn contains over 190 bioactive substances, including antioxidants, polyphenols, carotenoids and phytosterols.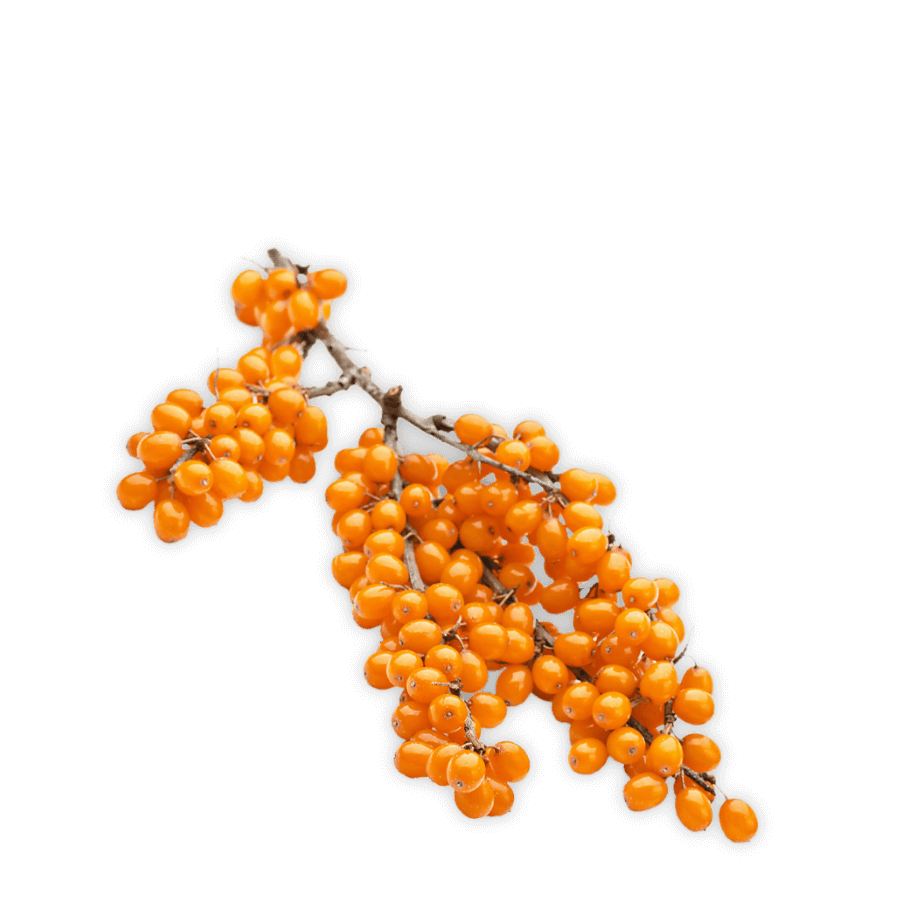 Where does the sea buckthorn used for Ogaenics grow?
Our organic sea buckthorn is grown in a controlled organic way on a farm in the lonely heights and pure air of the Tibetan plateau – where the sea buckthorn originally comes from. At an altitude of 4,500 meters above sea level, with continuous sunlight, extreme temperature differences, minimal rainfall and a high salt and acid content of the soil, our sea buckthorn develops its greatest potential and offers a higher nutritional value than sea buckthorn grown in other regions. Farmers are trained in sustainable harvesting methods to be in harmony with the natural cycle. The sea buckthorn is harvested by hand when it reaches its maximum maturity, leaving most of the plant intact to fruit again the next year.
How is Ogaenics sea buckthorn extract produced?
Freshly hand-harvested organic sea buckthorn is the basis for the branded Omegia™ extract we use in Ogaenics. The sea buckthorn is shock frozen directly after harvesting to preserve the valuable nutrients. For production, the frozen fruits are mixed into a fruit pulp without their leaves and branches. In the next step, the oil is gently dissolved from the juice without any solvents using environmentally friendly supercritical CO2 extraction. By avoiding thermal and oxidative damage during the manufacturing process, the bioactive lipids are preserved in their natural form. Our raw material therefore contains the full spectrum of vegan omega fatty acids with more than 13% omega 3 (as alpha-linolenic acid), more than 10% omega 6 (as linoleic acid) and more than 18% omega 9 (as oleic acid) together with more than 30% of the rare omega 7 (palmitoleic acid) as well as valuable natural vitamins A and E together with all natural co-factors and co-nutrients for optimal absorption in the body. The omega 3 and 6 ratio is thus an almost perfect 1:1.
Organic sea buckthorn is contained in these products