Strengthens the natural antioxidant defenses of the skin
BEAUTY FUEL Skin Radiance Complex is the ideal addition to your anti-aging routine. The natural, all-herbal and certified organic formula is designed to boost your skin's natural antioxidant defenses.
With just two capsules a day, you actively help protect your skin from UV-induced aging and increase its resistance to harmful environmental influences.
BEAUTY FUEL contains a unique combination of antioxidant natural vitamins A and C, organic silicon, organic tremella (the botanical alternative to hyaluronic acid), organic OPC and clinically researched Holimel® organic melon extract.
The optimal dose recommended by research
The innovative organic melon extract SOD-B Holimel® contains a high amount of natural and protected superoxide dismutase, which in clinical studies increased the skin's antioxidant resistance to UV rays by 16 percent and reduced skin damage by 72 percent. And this already after a one-month intake of 20 milligrams of SOD B Holimel® daily, the same dose as we use in BEAUTY FUEL.*
BEAUTY FUEL supports cell protection with plant antioxidants such as vitamin C from organic amla and OPC from organic pine extract, while silicon and tremella ensure healthy skin and cell regeneration. BEAUTY FUEL also contains 58 percent of the daily dose of vitamin A as mixed carotenoids to stimulate fibroblasts in the deeper layer of the skin and promote cell regeneration.
BEAUTY FUEL is a deep Beauty from Within solution that contains science-based, organic-quality ingredients formulated for ultimate bioavailability.
With BEAUTY FUEL you feel protected and look better.
BEAUTY FUEL is certified organic, is made in Germany, is without additives, 100% vegan and packaged in a high-quality apothecary jar.
Simply the best!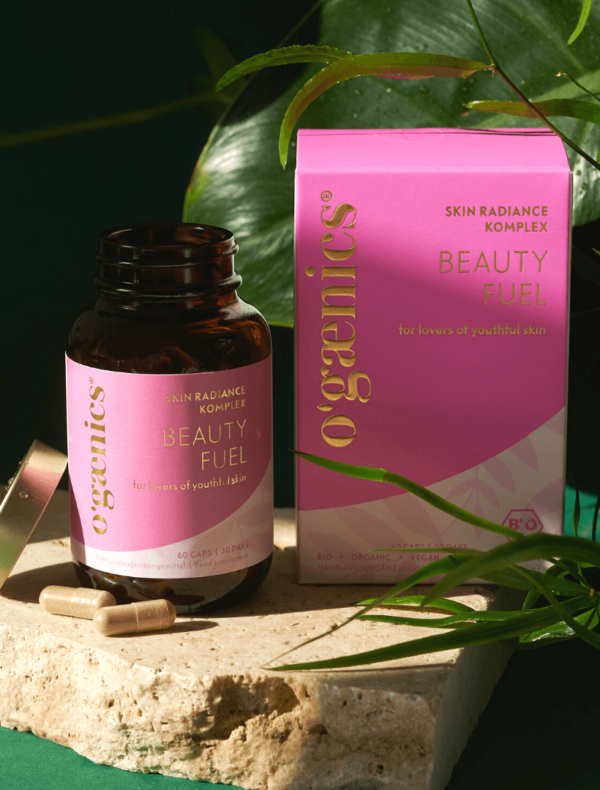 "A Specific Melon Concentrate Exhibits Photoprotective Effects from Antioxidant Activity in Healthy Adults."
L. Egoumenides, et al. Nutrients vol. 10,4 437. (2018)