Your healthy habit in just one capsule per day
CALM A LAMA is pure plant-based and highly bioavailable magnesium from organic green algae. Perfect for you if you are active, experience a lot of stress or suffer from PMS. Pure, without additives, GMO-free and 100% vegan.
Improve your magnesium supply
CALM A LAMA by Ogaenics provides you with natural magnesium from organic green algae. Grown in protected bays of the Atlantic Ocean and gently harvested by hand under strict sustainability standards. Our body optimally recognises and absorbs this type of magnesium as food in order to best perform its beneficial effect in the body.
Sometimes less is more
Taken in the evening with a glass of water, just one capsule of CALM A LAMA plant-based organic magnesium provides the perfect basis for a restful night, allowing your muscles and energy to regenerate. In order to meet your everyday challenges, CALM A LAMA ensures as well that you have steady energy and feel well all day long.
Designed for you
Whether you do a lot of sports or are very active, have a hectic daily life full of all kinds of stressors and strains, or suffer from PMS symptoms on a regular basis – in any case, CALM A LAMA plant-based organic Magnesium is the perfect food supplement for you. As a calming nutrient, it is the perfect mineral to regenerate your batteries and to soothe your nervous system.
Organic and easily absorbable
Minerals derived from plants are always protein compounds, which makes them perfectly bioavailable to humans. As opposed to synthetic magnesium compounds, plant magnesium from organic green algae contained in CALM A LAMA is transported into the bloodstream faster as well as at a higher rate and is much more compatible. CALM A LAMA is certified organic and therefore free of pesticides or other harmful substances.
How to Take Our Calm A Lama Plant-Based Organic Magnesium
How to use
Take one capsule in the evening with a glass of water with a meal. Do not exceed the recommended daily dose.
How to combine Calm A Lama
CALM A LAMA plays nicely with all other Ogaenics products. Maximize your results on physical and mental stress by combining CALM A LAMA with ADAPTO GENIE Balancing Komplex.
Note: Food supplements should not be taken as a substitute for a balanced, varied diet and a healthy lifestyle. If you are taking medication or are under medical supervision, please consult a physician before taking any food supplement. Keep out of reach of young children. Store the closed container in a cool (< 25° C), dry place.
Ingredients
Organic green algae extract* (Ulva lactuca), capsule: hydroxypropyl methyl cellulose
CALM A LAMA contains per one capsule about 30 µg (micrograms) of natural iodine (reference value for the intake of an adult is 150 µg per day).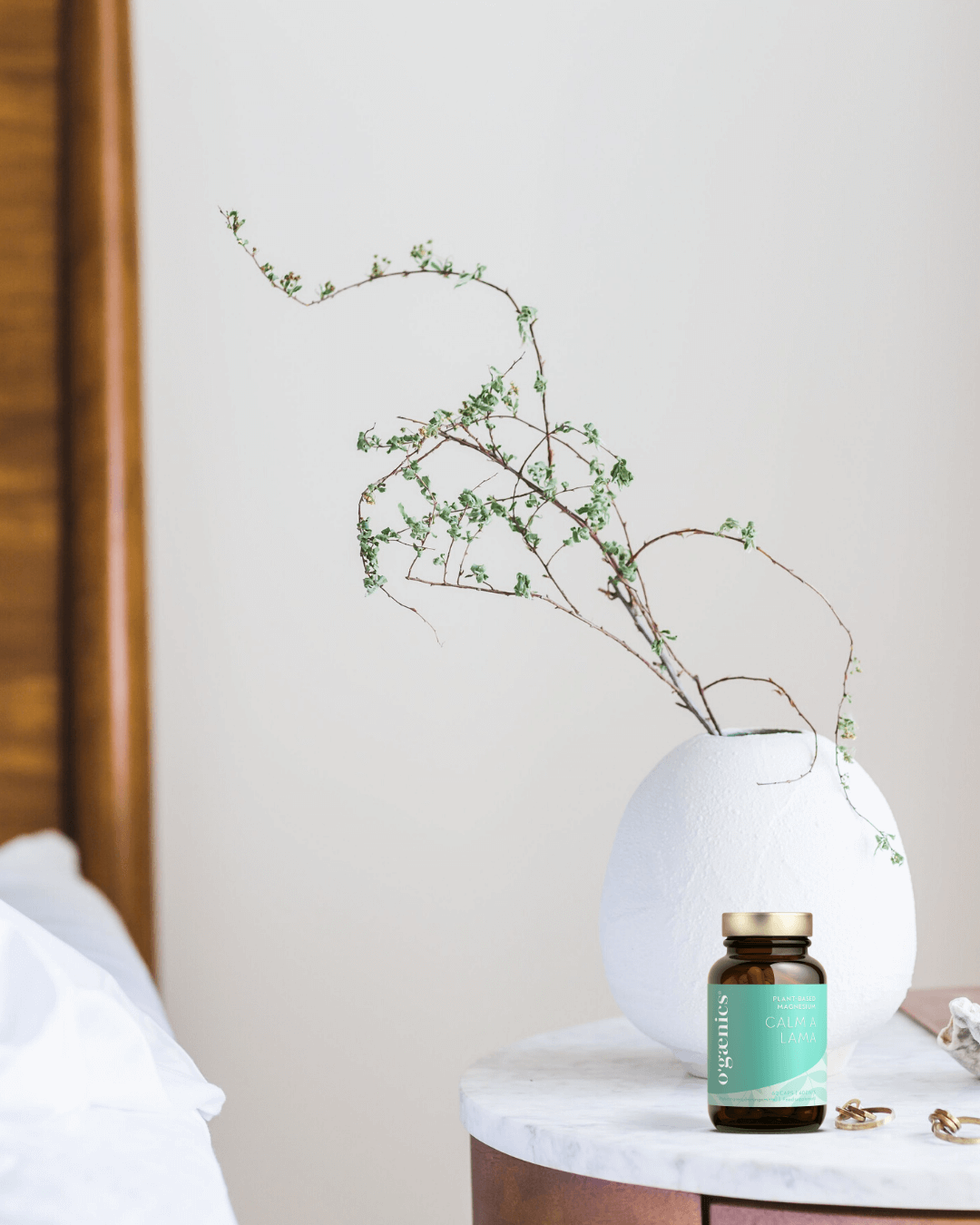 You probably have a few questions about our organic magnesium
Learn all about our Ogaenics organic plant-based supplement CALM A LAMA or send us your inquiry to hello@ogaenics.com. We will be happy to help you.
What our customers say about Calm A Lama | Plant-Based Organic Magnesium