This set of purely herbal organic supplements BEAUTY BASE and HAIRLELUJA supports hair volume and shine. With only two capsules a day, it provides your daily requirement of the hair nutrients zinc , vitamin C, silicon and biotin from organic plants, as well as the clinical dosage Keranat™ in combination with plant omega fatty acids from organic sea buckthorn. It strengthens your hair roots from the inside, supports shine and smoothness and reduces hair loss. Certified organic nutritional supplements, made in Germany, without additives, without genetic engineering, 100% vegan and packaged in high quality apothecary jar.
The Ogaenics Hair Volume & Shine Routine
This set is ideal for dull and lifeless hair thinning. It nourishes the hair roots from the inside with effectively strengthening and nourishing hair nutrients from organic plants for more beautiful hair and volume with an innovative plant active ingredient from millet, valuable plant omega fatty acids together with the four most important natural beauty nutrients for beautiful, healthy hair.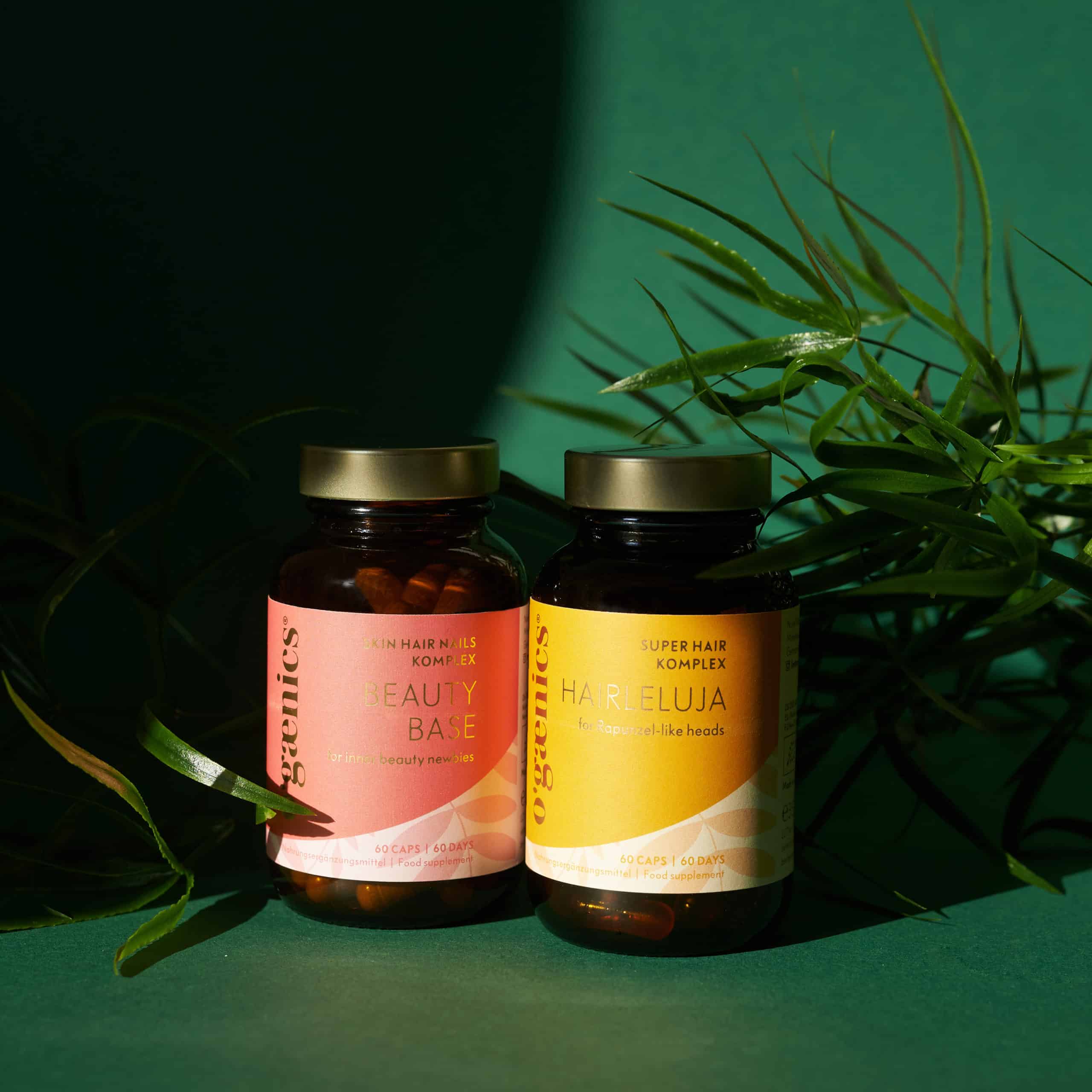 "Miliacin encapsulated by polar lipids stimulates cell proliferation in hair bulb and improves telogen effluvium in women"
Mayoura Keophiphath, Christophe Courbière, Léana Manzato, Irène Lamour, Emmanuelle Gaillard et al J Cosmet Dermatol (2020).
"A Double-blind, Placebo-controlled Study Evaluating the Efficacy of an Oral Supplement in Women with Self-perceived Thinning Hair."
Ablon Glynis et al J Clin Aesthet Dermatol (2012).
Set hair volume and shine from Beauty Base and Hairleluja
Beauty Base | Bio Skin Hair Nails Complex
BEAUTY BASE is a purely herbal organic food supplement for skin, hair and nails. One capsule per day covers your daily requirement of zinc from organic guava leaves, vitamin C from organic amla, silicon from organic bamboo and biotin from organic basil and organic sunflower seeds. BEAUTY BASE supports beautiful skin, shiny hair and strong nails from the inside out and is the nutrient foundation for your beauty.
Hairleluja | Organic Super Hair Komplex
HAIRLELUJA is a purely herbal organic nutritional supplement for beautiful hair with the clinically researched organic active ingredient Keranat™. HAIRLELUJA contains per capsule the clinical dosage Keranat™ of 300 mg in combination with valuable plant omega fatty acids from organic sea buckthorn. According to studies, Keranat™ reduces hair loss after only twelve weeks, promotes hair growth and strengthens hair roots. Hair becomes shinier, softer and smoother.