Many benefits, not only for your intestines
LOVE YOUR GUT Daily Biotic Complex is a synbiotic organic food supplement that strengthens the diversity of your intestinal flora.
Because the condition of your gut has a profound impact on your well-being. In the gut, your body produces neurotransmitters (aka happy hormones), metabolizes hormones, neutralizes pathogens, eliminates toxins, and even produces nutrients.
LOVE YOUR GUT contains the optimal daily dose of 10 billion CFU (colony forming units) from 21 scientifically researched bacterial strains and prebiotic fiber. These serve as food for the good bacteria in the intestine and thus support their growth and reproduction.
You can move a lot with just one capsule a day:
feel better
optimize your digestion
same dietary sins from
For greater well-being, regular digestion and less flatulence.
The optimal dose recommended by research
LOVE YOUR GUT contains Lactobacillus plantarum LP01 (LMG P-21021) and Bifidobacterium breve BR03 (DSM 16604), which improve digestion. They have been shown in studies to significantly increase well-being by improving the number of weekly bowel movements, stool consistency, and bloating after one month of daily intake at the dosage of 2.5 x 10 cfu/day (as in LOVE YOUR GUT)*.
LOVE YOUR GUT Daily Biotic Complex is your 2-in-1 solution that contains science-based, organic-quality ingredients formulated for ultimate bioavailability. As a benefit for your intestines and digestion, our Daily Biotic Complex also contains no allergens such as milk, lactose, gluten or fructose.
LOVE YOUR GUT is made in Germany, without additives, 100% vegan and packaged in a high quality apothecary jar.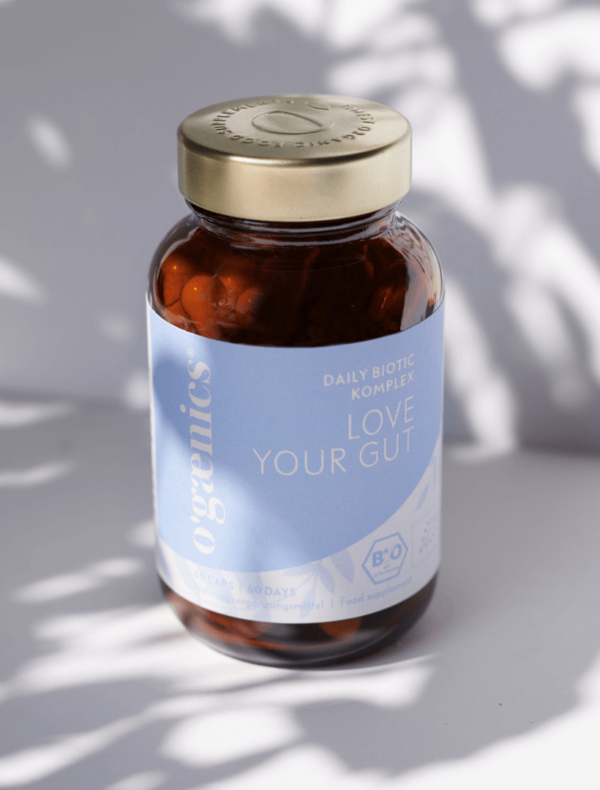 "The use of probiotics in healthy volunteers with evacuation disorders and hard stools. A double blind, randomized, placebo-controlled study"
Del Piano, M., et al, J Clin Gastroenterol, (2010) 44(8): S30-34
Further studies on the bacterial strains contained in the Daily Biotic complex:
"Probiotics as a Novel Adjuvant Approach to Atopic Dermatitis."
Manzotti, G. et al, Journal of Contemporary Immunology. (2014) Vol. 1 No. 2 pp. 57-66
"A new chance of preventing winter diseases by the administration of synbiotic formulations .."
Pregliasco, F. et al, J Clin Gastroenterol, (2008) Sep;42 Suppl 3 Pt 2:S224-33.
"Probiotics and antibiotic-associated diarrhea in children: a review and new evidence on Lactobacillus rhamnosus GG during and after antibiotic treatment."
Mantegazzaa, C. et al, Pharmacol Res.. (2018) Feb;128:63-72.