This set of purely herbal organic supplements MRS DO-IT-ALL 18+, BONE NANZA and HELP FROM KELP is the perfect nutrient supply for you and your baby during pregnancy and breastfeeding. The set contains plant organic folate (=natural folic acid), organic calcium, organic magnesium, organic vitamin D3, organic iodine and many other crucial vitamins, minerals and antioxidants from organic plants. It is ideal for you to have the best care during pregnancy and breastfeeding and not to worry about the health of your baby. Certified organic nutritional supplements, made in Germany, without additives, without genetic engineering, 100% vegan and packaged in high quality apothecary jar.
The Ogaenics Pregnancy & Lactation Routine
You can't get all the nutrients you need from your diet alone during pregnancy. This set contains all scientifically useful nutritional supplements in pregnancy, obtained from organic plants. The highly effective combination accompanies you safely through pregnancy and breastfeeding.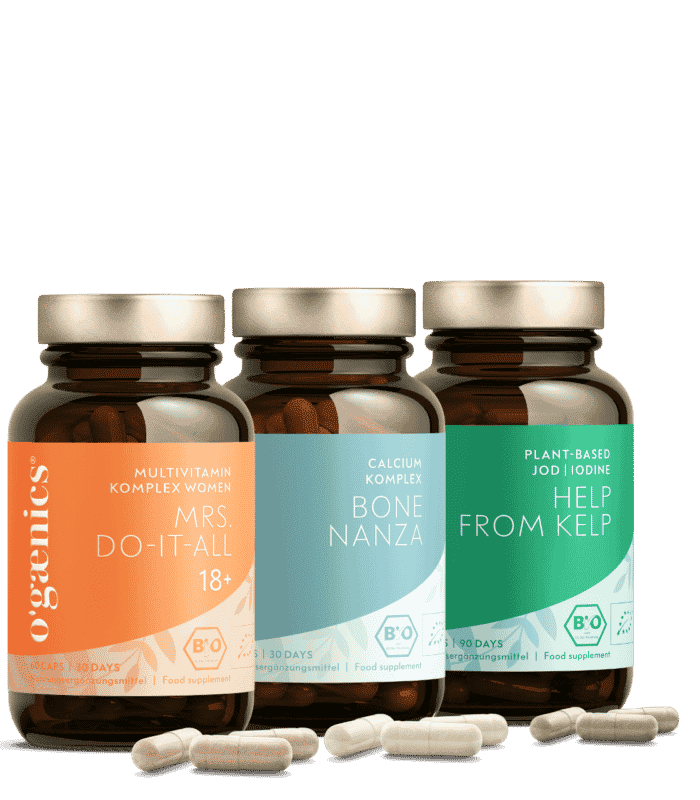 "Supplementation during pregnancy: beliefs and science."
Nils Milman, Tomasz Paszkowski, Irene Cetin & Dr Camil Castelo-Branco (2016) , Gynecological Endocrinology, 32:7, 509-516,
"Calcium supplementation during pregnancy for preventing hypertensive disorders and related problems."
Hofmeyr, G Justus et al. The Cochrane database of systematic reviews ,6 CD001059. 24 Jun. 2014,
"Current Concepts of Maternal Nutrition."
Lowensohn, Richard I et al. Obstetrical & gynecological survey vol. 71,7 (2016): 413-26.
"Vitamin D and its impact on maternal-fetal outcomes in pregnancy: a critical review."
Agarwal, Shreya et al. Critical reviews in food science and nutrition vol. 58,5 (2018): 755-769.
https://www.bfr.bund.de/cm/343/hoechstmengenvorschlaege-fuer-vitamin-d-in-lebensmitteln-inklusive-nahrungsergaenzungsmitteln.pdf
"Anemia in Pregnancy: A Pragmatic Approach."
Sun D, McLeod A, Gandhi S, Malinowski AK, Shehata N. Obstet Gynecol Surv. 2017 Dec;72
"Worldwide prevalence of anemia."
McLean, E., Cogswell, M., Egli, I., Wojdyla, D., & De Benoist, B. (2009). WHO Vitamin and Mineral Nutrition Information System, 1993-2005. Public Health Nutrition, 12(4), 444-454.
Pregnancy and Lactation Set from Mrs Do-It-All 18+, Bone Nanza and Help From Kelp.
Mrs Do-It-All 18+ | Organic Multivitamin Komplex Women
This organic multivitamin contains 18 natural nutrients embedded in the natural matrix of organic plant extracts from which they are derived. Your body can utilize them better and more tolerably than synthetic nutrients. Besides extra folate (520 micrograms) from organic spinach, which contributes to cell division and growth of maternal tissues during pregnancy, vitamins A (as beta-carotene), B1, B2, B3, B5, B6, B12, biotin, D, E and K are included iron, zinc, selenium and chromium.
Bone Nanza | Organic Calcium Komplex
Calcium during pregnancy is critical for the baby's bone and tooth development and also keeps the bones and teeth of expectant moms strong and healthy. BONE NANZA supplements the diet during pregnancy with 602 mg of vegetable calcium plus magnesium and vitamin D3 daily. The minerals come from certified organic red calcareous algae that grow in remote South American waters in the Atlantic Ocean. 32 other trace elements (e.g. iodine, selenium, zinc, cobalt, copper and chromium) in these algae gently support the remineralization of the body. Organic lichens provide the vitamin D3 in BONE NANZA, which supports calcium absorption.
Help From Kelp | Plant-Based Iodine
Studies show that iodine status is inadequate in pregnant and childbearing women. However, the iodine status of the mother is crucial for the development of the child in the womb and during breastfeeding and even influences the IQ of the child. HELP FROM KELP supplements the diet daily with 200 µg of plant-based iodine from certified organic and wild-harvested organic kelp, supporting better iodine supply during this sensitive time in a sustainable and safe way.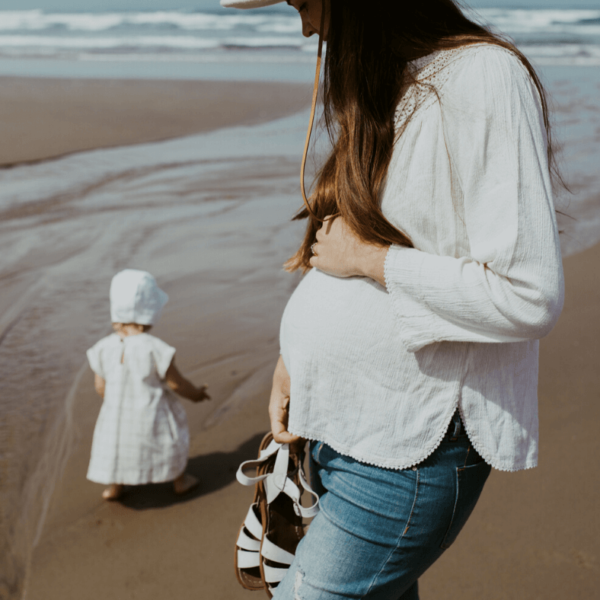 All nutrients in this set are optimal support for pregnancy and lactation and come without exception from organic plants and organic algae. This allows your body to absorb them optimally. These organic nutrients are much more tolerable than many conventional supplements because they are naturally bound to proteins and therefore better tolerated by the body.
Yes. During breastfeeding, your body will continue to need good support because your baby will get all the nutrients from you.