Set 2x Hello Sunshine organic vitamin D3 for immune system and bones
HELLO SUNSHINE Vitamin D3 Complex by Ogaenics is a natural and certified organic formula, intentionally without vitamin K2 to maintain healthy vitamin D levels. Vitamin D is converted in the body into an important hormone that controls cell function and numerous bodily processes.
Our organic vitamin D3 is the plant-based innovation among vitamin D3 supplements. It comes entirely from organic lichens, without any additives. This organic dietary supplement also contains organic reishi vital mushrooms, which have been valued for centuries for their adaptogenic effects .
HELLO SUNSHINE without vitamin K2 is ideal for you if you are looking for a purely herbal vitamin D3 supplement that can effectively optimize your vitamin D levels. If you eat animal foods regularly, you are already well supplied with vitamin K2. Also, if you are taking blood thinning medications, you should avoid vitamin K2 to avoid interactions.
One capsule Hello Sunshine = 2,000 I.U. vitamin D3
This vitamin D3 is ideal for flexible supply during all seasons. Take one capsule every two days as a maintenance dose. Or consult your doctor and flexibly adjust your dose to your needs up to two capsules per day (=4,000 I.U.).
support a healthy vitamin D level
strengthen immune system and defenses
strengthen bones, teeth and muscle function
Recent studies show that an adequate supply of vitamin D3 can even reduce the risk of acute respiratory infections. can.
The optimal form of vitamin D recommended by research
Recent studies show that vitamin D3 is more effective than vitamin D2 in increasing vitamin D blood levels. Our organic vitamin D3 comes entirely from organic lichens, without any additives.
HELLO SUNSHINE provides 2,000 I.U. (=50 micrograms) of organic vitamin D3 per capsule, embedded in its vegetable matrix. This makes it particularly bioavailable.
HELLO SUNSHINE is made in Germany, without additives, 100% vegan and packaged in a high quality apothecary jar.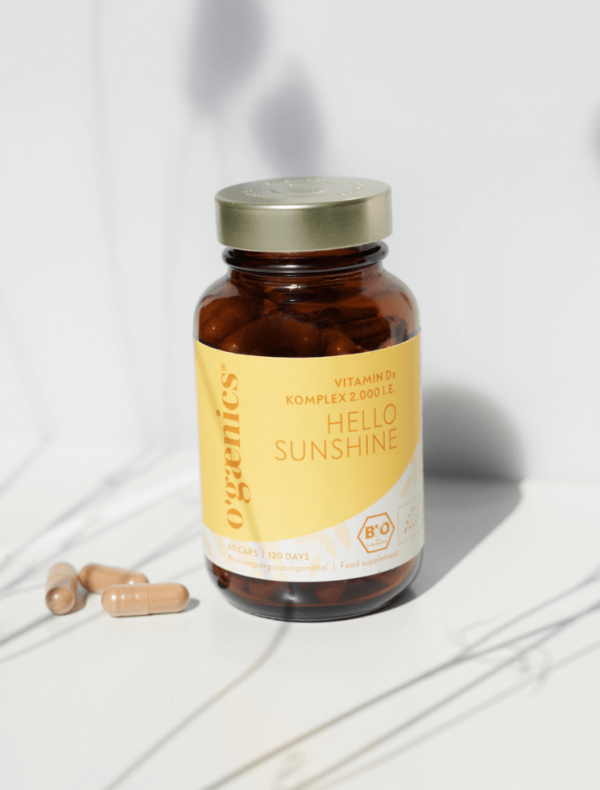 Hello Sunshine supports daily intake
Hello Sunshine supports daily intake