This set of purely herbal organic supplements CALM A LAMA and ADAPTO GENIE will rebalance your body during stress and help with tension and sleep problems. In addition to 168 mg of pure plant magnesium per capsule, it contains a natural organic vitamin B complex, organic KSM-66 Ashwagandha®, Extramel® organic melon extract and Safr'Inside™ organic saffron extract – a boon for strained nerves and psyche during stress and ideal for anyone who can't fall asleep well, often lies awake at night or rarely sleeps through the night. Certified organic nutritional supplements, made in Germany, without additives, without genetic engineering, 100% vegan and packaged in high quality apothecary jar.
The Ogaenics Sleep & Mood Routine
Sleep better! This set is ideal for you if you suffer from insomnia, have trouble falling asleep or sleeping through the night, regularly suffer from the dreaded 3pm slump and try to manage it during the day with caffeine. Break the tiring cycle and gently get back into balance.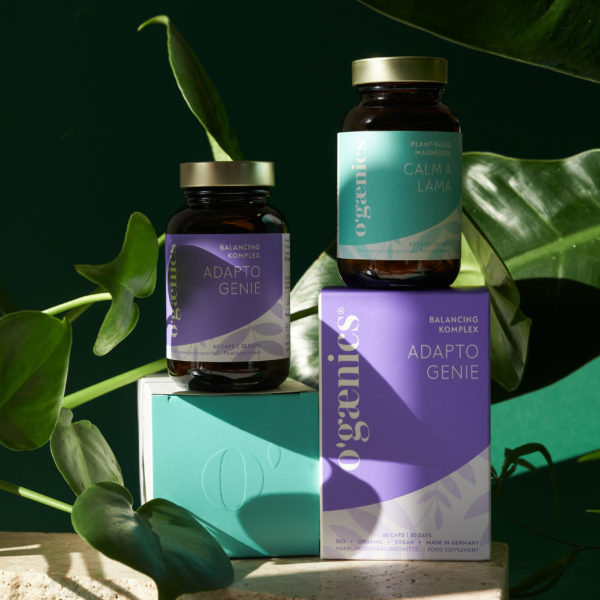 "A Prospective, Randomized Double-Blind, Placebo-Controlled Study of Safety and Efficacy of a High-Concentration Full-Spectrum Extract of Ashwagandha Root in Reducing Stress and Anxiety in Adults."
Chandrasekhar, K et al, Indian journal of psychological medicine vol. 34.3 (2012).
"Clinical evaluation of the pharmacological impact of ashwagandha root extract on sleep in healthy volunteers and insomnia patients: A double-blind, randomized, parallel-group, placebo-controlled study."
Langade, D et al, Journal of Ethnopharmacology, Volume 264, (2021).
"Efficacy and Safety of Ashwagandha (Withania somnifera) Root Extract in Improving Sexual Function in Women: A Pilot Study."
Dongre, S et al, BioMed research international vol. 2015 (2015).
"Effects of Saffron Extract Supplementation on Mood, Well-Being, and Response to a Psychosocial Stressor in Healthy Adults: A Randomized, Double-Blind, Parallel Group, Clinical Trial."
Jackson, P. et al, Frontiers in Nutrition. 7. 606124. (2021).
"Effect of an oral supplementation with a proprietary melon juice concentrate (Extramel®) on stress and fatigue in healthy people: a pilot, double-blind, placebo-controlled clinical trial."
Milesi, MA. et al. Nutr J 8, 40 (2009).
"Dietary Supplementation with a Superoxide Dismutase-Melon Concentrate Reduces Stress, Physical and Mental Fatigue in Healthy People: A Randomised, Double-Blind, Placebo-Controlled Trial."
Carillon, J.et al. Nutrients 6, 2348-2359 (2014).
Set sleep and mood from Adapto Genie and Calm a Lama
Adapto Genie | Organic Balancing Complex
Strengthens the psyche, improves mood
ADAPTO GENIE is the companion and energizer during the day. It contains an energizing and nerve-boosting organic vitamin B complex from organic plants as well as Safr'Inside™, an organic saffron extract for your psyche and good mood. One capsule each in the morning and at noon gives serenity for the day.
Calm A Lama | Plant-Based Organic Magnesium
Soothing magnesium from organic algae
Magnesium is the calming nutrient in the evening. The magnesium in CALM A LAMA comes from wild organic green algae harvested under strict sustainability standards. It is optimally recognized and absorbed by the body as a food in order to unfold its effect in the body and press the "Calm down" button.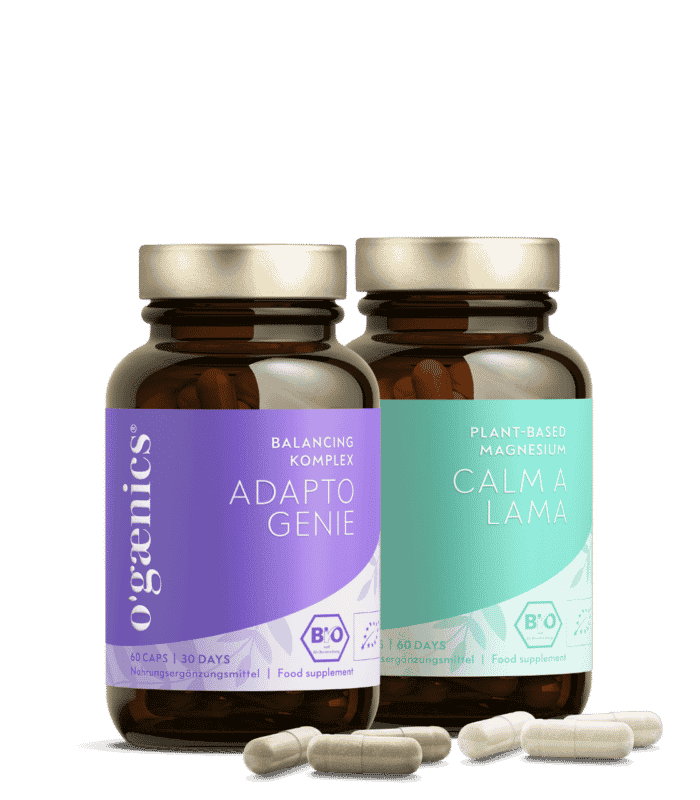 No, we do not recommend Adapto Genie during pregnancy. However, you can take it after birth as well as during breastfeeding.