This set of purely herbal organic supplements HEALTHY KICK, B-HAPPY and CALM A LAMA is the support for your extra energy and recovery. The combination contains high-dose organic vitamin C (=300% NRV), a high-dose and complete organic vitamin B complex and pure vegetable organic magnesium. The set is ideal for replenishing energy, reducing fatigue, supporting muscle function and performance, building collagen for healthy bone and cartilage function, and restoring electrolyte balance in your body. Certified organic nutritional supplements, made in Germany, without additives, without genetic engineering, 100% vegan and packaged in high quality apothecary jar.
The Ogaenics Energy & Recovery Routine
This set is ideal for an energy boost or a morning kick. It leaves you feeling energized and refreshed to face the day awake and ready, and supports regeneration after sports or long hours at the desk. With high-dose vitamin C, natural B vitamins and plant magnesium.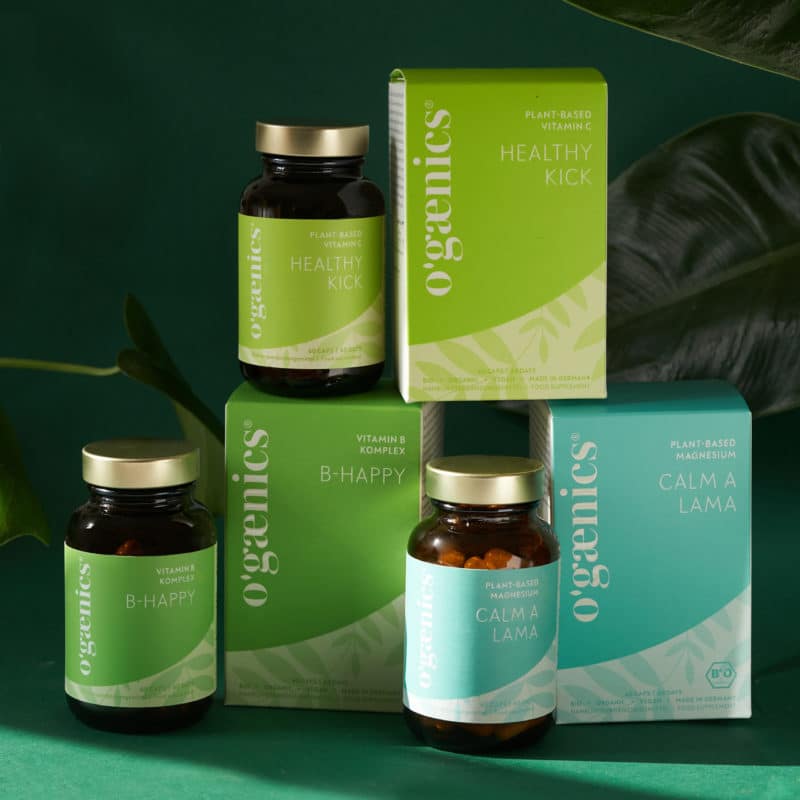 Set Energy and Recovery from Healthy Kick, B-Happy and Calm a Lama
Healthy Kick | Plant-Based Organic Vitamin C
HEALTHY KICK is a purely herbal organic food supplement with high doses of herbal organic vitamin C from organic amla fruit. With 240 mg of vitamin C per capsule, Healthy Kick helps you replenish energy, reduce fatigue, build collagen for healthy functioning of skin, gums, teeth, bones and cartilage, and support normal immune system function.
B-Happy | Organic Vitamin B Komplex
B-HAPPY is a purely herbal organic food supplement with a high dose and complete vitamin B complex (B1, B2, B3, B5, B6, biotin, folate and B12) from organic whole extracts. With just one capsule daily, it powerfully supports your energy metabolism, physical and mental performance, heart, psyche and nervous system function. B-HAPPY is ideal for a sporty lifestyle and a lot of stress.
Calm A Lama | Plant-Based Organic Magnesium
CALM A LAMA is a purely herbal organic food supplement with valuable organic magnesium from organic algae. CALM A LAMA provides 168 mg of pure plant magnesium per capsule. It supports muscle function and cell division, is a benefit for stressed nerves and psyche, reduces fatigue and restores the electrolyte balance in your body. It is ideal for you during stress and sports load.
No, we do not recommend taking this kit during pregnancy because some of the natural B vitamins in B-Happy are not optimally dosed for pregnant women. If you would like further guidance, please contact our consulting team.