Welcome to your future self!
MR DO-IT-ALL 18+ Organic Multivitamin for Men 18+ provides your body with a natural, all-vegetable and certified organic formula for optimal performance. This consists of 44 essential vitamins, minerals, organic superfoods and organic botanicals.
With just two capsules a day, you can live your best life:
look better
feel more energetic
feel more awake
Start optimizing your body within 24 hours. For more physical and mental power, healthy testosterone levels, stress support and regeneration.
The optimal dose recommended by research
Oxidative stress, which is fueled by low levels of your body's antioxidant protection, contributes to a decline in your daily performance. MR DO-IT-ALL 18+ therefore contains SOD-B Extramel®, an innovative organic melon extract in scientific dosage.
In clinical studies, a one-month supply of 10 milligrams of SOD B Extramel® daily enhanced daily performance by improving stress reduction, sleep quality, cognitive function, and physical resilience.*
MR DO-IT-ALL 18+ is your all-in-one solution that contains science-based, organic-quality ingredients formulated for ultimate bioavailability.
MR DO-IT-ALL 18+ is made in Germany, without additives, 100% vegan and packaged in a high quality apothecary jar.
Simply the best!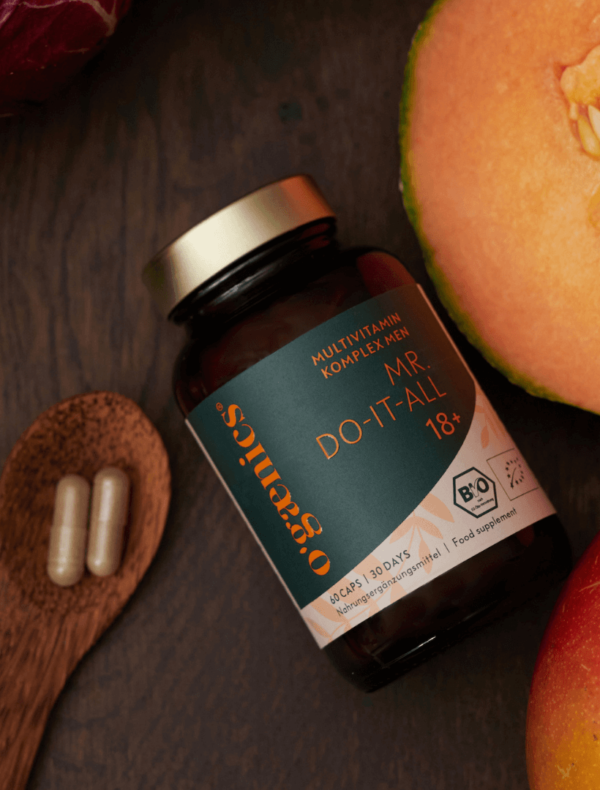 "Effect of an oral supplementation with a proprietary melon juice concentrate (Extramel®) on stress and fatigue in healthy people: a pilot, double-blind, placebo-controlled clinical trial."
Milesi, MA. et al. Nutr J 8, 40 (2009).
"Dietary Supplementation with a Superoxide Dismutase-Melon Concentrate Reduces Stress, Physical and Mental Fatigue in Healthy People: A Randomised, Double-Blind, Placebo-Controlled Trial."
Carillon, J.et al. Nutrients 6, 2348-2359 (2014).