Organic nutrients for hair growth and shine
HAIRLELUJA Super Hair Komplex is a natural organic food supplement made from Keranat™, an active plant ingredient and precious organic omega fatty acids to improve hair growth, hair quality and reduce hair loss and thinning hair.
Natural hair actives
HAIRLELUJA supports hair growth with the innovative, clinically researched active plant blend Keranat™ in organic quality and the precious natural fatty acids Omega 3, 6, 7 and 9 derived from organic sea buckthorn. Keranat™ contains miliacin, a rare triterpenoid compound derived from millet.
For stronger hair
For lasting results, Keranat™ acts directly on the dermal papilla, which is considered the biological engine of the hair. Thus, HAIRLELUJA restores the healthy life cycle of the hair, reduces hair loss and makes hair stronger, shinier and healthier.
More hair shine
Dermatologists found in one clinical trial that women taking the HAIRLELUJA ingredient showed shinier and healthier hair after only 6 weeks. After 12 weeks, Keranat™ significantly reduced hair loss compared to placebo and 75% of women self-assessed that their hair was shinier, softer and smoother.
Less hair loss
The clinically researched Keranat™ contained in HAIRLELUJA significantly reduced hair loss after 12 weeks compared to placebo in a study conducted with 60 women. The average reduction of 50% was measured by an independent and accepted methodology, the phototrichogram. Based on the women's self-assessment, the value of improvement was as high as 91%.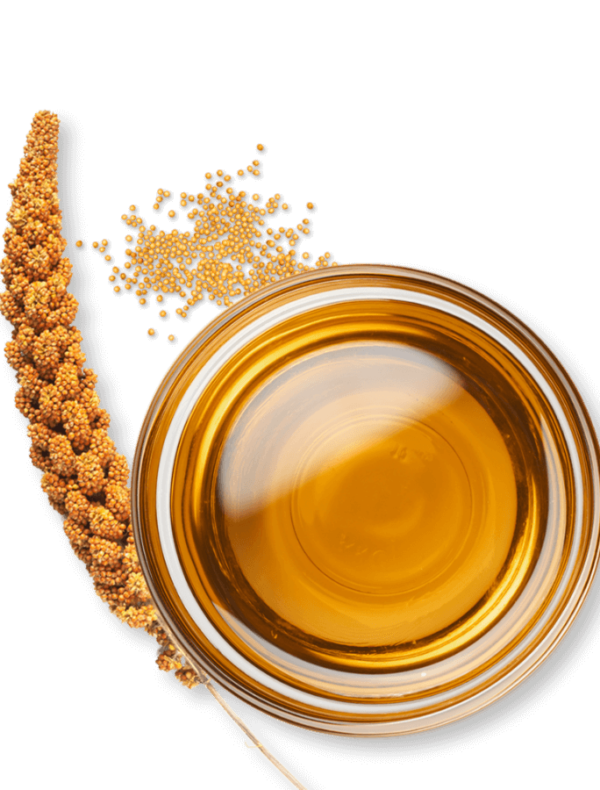 You probably have a few questions about Hairleluja
Learn all about our Ogaenics products or send your inquiry to hello@ogaenics.com. We are happy to help.
We do not recommend this formula during pregnancy. If you want to support your beauty during pregnancy, we recommend OILALALA Organic Skin Omega Complex instead to moisturize hair and scalp.
How to take our Hairleluja Organic Super Hair Komplex
How to use
Take one capsule daily with a glass of water with a meal. Do not exceed the recommended daily dose.
How to combine Hairleluja
HAIRLELUJA plays nicely with all other Ogaenics products. Maximize results by combining HAIRLELUJA with HELLO SUNSHINE Organic Vitamin D3 Komplex 2,000 I.U. and BEAUTY BASE Organic Skin Hair Nails Komplex.
Note: Food supplements are not a substitute for a balanced, varied diet and a healthy lifestyle. If you are taking medication or are under medical supervision, please consult a physician before taking any food supplement. Not suitable for pregnant women. Keep out of reach of young children. Store the closed container in a cool (< 25° C), dry place.
Ingredients and composition
Ingredients: Certified organic Keranat™ Super Hair Blend*: organic millet seed oil* (Panicum miliaceum), organic sunflower seed oil* (Helianthusannuus), gluten-free organic wheat extract* (Triticum vulgare/aestivum), organic rosemary leaf extract* (Rosmarinus officinalis); blend of organic sea buckthorn seed and organic sea buckthorn berry oil*(Hippophae rhamnoides), capsule: hydroxypropyl methyl cellulose