Clear skin with only one capsule per day
BEAUTY AND THE Bs by Ogaenics is your pure plant-based organic food supplement for clear skin without pimples, blemishes and acne, carefully formulated, additive-free, non-GMO and 100% vegan.
Improve your skin
BEAUTY AND THE Bs by Ogaenics improves your skin when dealing with acne and other skin problems by combining clinically effective gut bacteria, a regenerating plant-based vitamin B complex, and barley grass, an organic superfood.
Sometimes less is more
With just one capsule in the morning, taken with a glass of water, BEAUTY AND THE Bs by Ogaenics will lay the perfect foundation for more beautiful, clear skin free from pimples, blemishes and acne.
Designed for you
Your skin is the largest organ of your body and tells when something inside is out of balanceYour skin is the largest organ of your body and tells when something inside is out of balance. Stress, sugar, dairy products and hormonal fluctuations can be the cause of acne, blemishes and pimples. BEAUTY AND THE Bs by Ogaenics works holistically via the gut-skin axis to support achieving clear skin in just eight weeks.
Organic and easily absorbed
All plant-based ingredients present in BEAUTY AND THE Bs are certified organic and free of pesticides or other harmful substances that can throw your body out of balance. Ogaenics organic nutrients are recognized by the body as food and are therefore transported into the bloodstream faster and are tolerated more easily.
How to take our Beauty And The Bs Bio Pure Skin Komplex
How to use
Take one capsule in the morning with a glass of water on an empty stomach. For best results, please allow 30 minutes before the next meal. Do not exceed the recommended daily dose.
How to combine Beauty And The Bs
BEAUTY AND THE Bs plays nicely with all other Ogaenics products. Maximize results for pure skin, by combining with
BEAUTY BASE Skin, Hair, Nails Komplex
OILALALA Organic Skin Omega Komplex and
CALM A LAMA Organic Plant-based Magnesium.
Note: Food supplements are not a substitute for a balanced, varied diet and a healthy lifestyle. If you are taking medication or are under a doctor's care, please consult your doctor before taking any dietary supplement. Keep out of reach of young children. Store in a cool (< 25° C) and dry place with the lid closed.
Ingredients: Ogaenics® Organic Vitamin B Plant Blend: organic guava fruit extract*(Psidium guajava), organic spirulina extract* (Arthrospira platensis), organic chlorella extract* (Chlorella vulgaris), organic yeast extract* (Saccharo-myces cerevisiae), Organic mango fruit extract* (Mangifera indica), organic sprouted mung bean extract* (Vigna angularis), organic lemon peel extract* (Citrus limon), organic basil leaf extract*(Ocimum sanctum), Organic shiitake extract*(Lentinula edodes), organic Spinach Leaf Extract* (Spinacia oleracea), organic barley grass powder* (Hordeum vulgare), Ogaenics® Beauty Microbiome Blend: Lactobacillus plantarum PBS067 (DSM 24937), Lactobacillus reuteri PBS072 (DSM 25175) and Lactobacillus rhamnosus LRH020 (DSM 25568), capsule: hydroxypropy lmethyl cellulose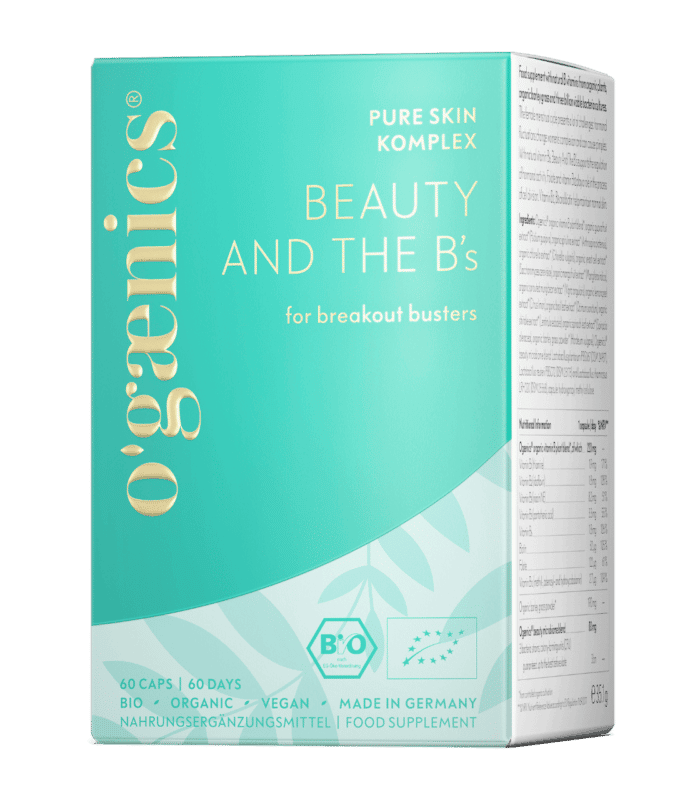 You probably have a few questions about Beauty and the Bs Pure Skin Komplex
Learn all about our Ogaenics products or send your inquiry to hello@ogaenics.com. We are happy to help.