High dose organic B vitamins in just one capsule per day
B-HAPPY is a high-dose complex delivering all eight natural B vitamins (vitamins B1, B2, B3, B5, B6, B12, biotin and folate) from certified organic plant sources in just one capsule per day. Pure, without additives, GMO-free and 100% vegan.
Improve your vitamin B supply
B vitamins belong to the group of water-soluble vitamins. They are rarely stored in the body and should therefore be supplied daily in sufficient quantities. B-HAPPY contains all eight natural B vitamins in potent dosages. These B vitamins from plant source are best recognized and absorbed by the body to unfold their energizing effect in the body.
Sometimes less is more
With just one capsule in the morning, taken with a glass of water, B-HAPPY by Ogaenics provides your body with a powerful supply of all important B vitamins – for a successful day full of energy and creative power. The potent dosage ensures that you will feel its effects even when your body and mind experience high levels of stress.
Designed for you
B vitamins have a strong influence on the entire metabolism and play an important role in energy production. You have an increased need and require B-HAPPY if you avoid animal foods, are on a diet or exercise regularly. Thus, you can prevent deficiencies, support your energy levels and recuperation.
Organic and easily absorbable
All ingredients present in B-Happy Vitamin B Komplex are purely natural and certified organic: this means they are also free of pesticides or other harmful substances. Ogaenics organic B vitamins are recognized by the body as food and are therefore transported into the bloodstream faster and tolerated more easily.
How to take our B-Happy Organic Vitamin B Komplex
How to use
Take one capsule of B-HAPPY in the morning or at noon with a glass of water with a meal. Do not exceed the recommended daily dose.
How to combine B-Happy
B-HAPPY plays nicely with all other Ogaenics products. Maximize results by combining B-HAPPY with HEALTHY KICK Plant-Based Organic Vitamin C, CALM A LAMA Plant-based Organic Magnesium or HELLO SUNSHINE Organic Vitamin D3 Complex 2,000 I.U.
When combined with
ADAPTO GENIE
FEED YOUR BLOOD
GREEN ENERGY
the Multivitamins
BEAUTY AND THE B's
For optimal absorption of the B vitamins contained in the product, you should allow for a two-hour time delay when taking the product.
Note: Food supplements are not a substitute for a balanced, varied diet and a healthy lifestyle. If you are taking medication or are under medical supervision, please consult a physician before taking any food supplement. Not suitable for pregnant women. Keep out of reach of young children. Store the closed container in a cool (< 25° C), dry place.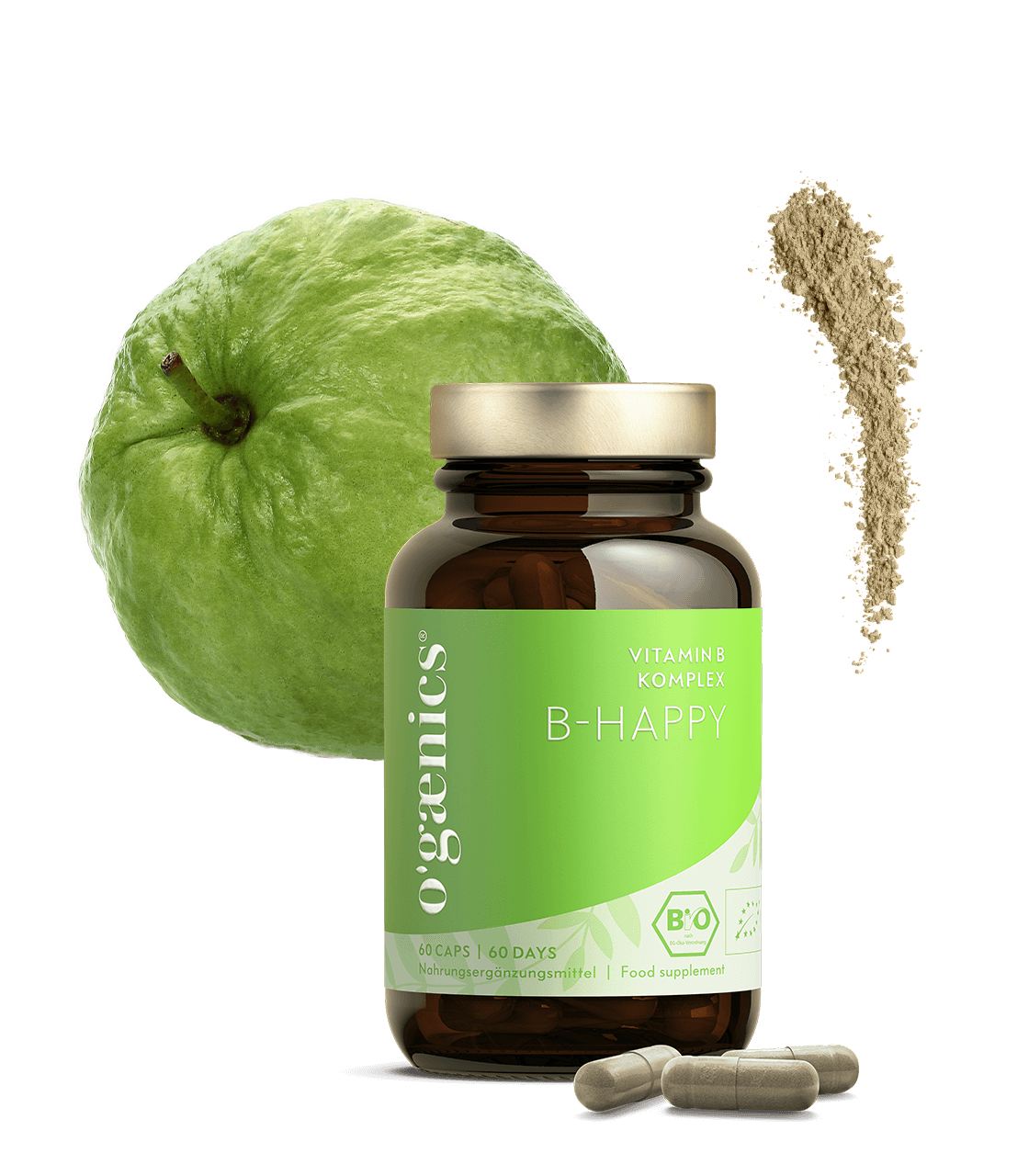 Ingredients
Ogaenics Organic Vitamin B Plant Blend: organic guava extract* (Psidium guajava), organic spirulina extract* (Arthrospira platensis), organic chlorella extract* (Chlorella vulgaris), organic yeast extract* (Saccharomyces cerevisiae), organic mango fruit extract* (Mangifera indica), organic sprouted mung bean extract* (Vigna angularis), organic lemon peel extract* (Citrus limon), organic basil leaf extract * (Ocimum sanctum), organic barley grass powder* (Hordeum vulgare); Capsule: hydroxypropyl methyl cellulose
You probably have a few questions about B-Happy
Learn all about our plant-based Ogaenics organic food supplements or send your inquiry to hello@ogaenics.com. We will be happy to help you.
What our customers say about B-Happy | Organic Vitamin B Complex