Your healthy habit in just two capsules per day
MRS DO-IT-ALL 55+ by Ogaenics is your purely plant-based organic food supplement for women aged 55+. It is carefully hand-picked, additive-free, non-GMO and 100% vegan.
Improve your nutrient supply
MRS DO-IT-ALL 55+ by Ogaenics provides you with 45 natural organic vitamins, organic minerals, organic superfoods, organic botanicals and other organic plant actives from real foods.
Sometimes less is more
With only two capsules in the morning, taken with a glass of water, MRS DO-IT-ALL 55+ by Ogaenics provides the perfect basis for a successful day full of energy and creativity.
Designed for you
The special nutritional profile for MRS DO IT ALL 55+ features organic vitamins, organic minerals and a powerful turmeric extract to support your healthy aging. It' s ideal for you if you wish to take preventive action against osteoporosis, cardiovascular diseases, mental imbalances, inflammation and dryness of the skin and mucous membranes.
Organic and easily absorbable
All ingredients in MRS DO-IT-ALL 55+ are certified organic and free of pesticides or other harmful substances that could upset your hormones as endocrine disruptors. Ogaenics organic nutrients are recognized by the body as food and are therefore transported into the bloodstream faster and are tolerated more easily.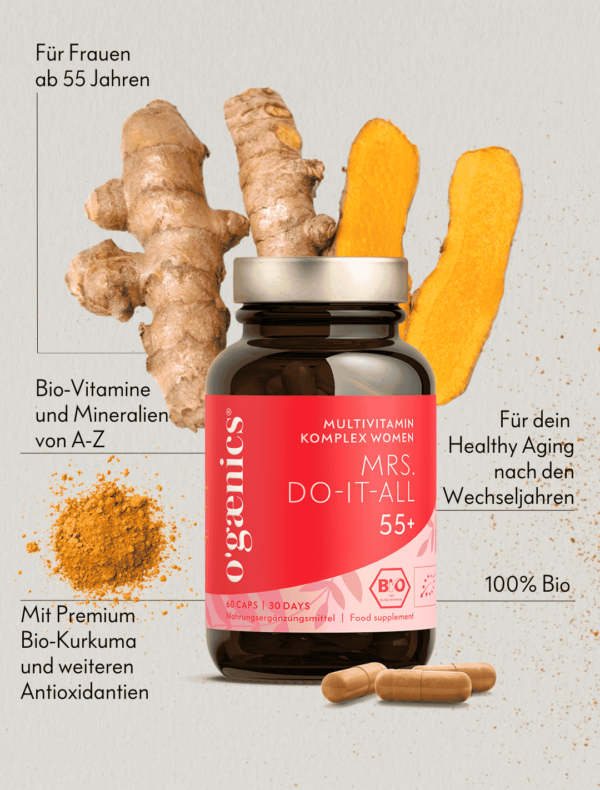 How to use
Take two capsules daily with a glass of water with a meal. In order for fat-soluble vitamins present in MRS DO-IT-ALL 55+ to be best absorbed by the body, your meal should also include healthy fats. Do not exceed the recommended daily intake.
This is how to combine Mrs. Do-It-All 55+
MRS DO-IT-ALL 55+ plays nicely with all other Ogaenics products. Complete your healthy aging routine by combining with LOVE YOUR GUT Daily Biotic Komplex for daily gut care, OILALALA Organic Skin Omega Komplex, CALM A LAMA Plant-based Organic Magnesium and BONE NANZA Organic Calcium Komplex.
Note: Food supplements should not be taken as a substitute for a balanced, varied diet and a healthy lifestyle. If you are taking medication or are under medical supervision, please consult a physician before taking any food supplement. Keep out of reach of young children. Store the closed container in a cool (< 25° C), dry place.
List of all ingredients
Ogaenics® Organic Superfoods Blend: Organic guava leaf and fruit extract* (Psidium guajava), organic mushroom powder* (Agaricus bisporus), fermented organic soybean seeds (Glycien max), organic manioc root extract (Manihot esculenta),organic amla fruit extract* (Emblica officinalis), organic spirulina extract* (Arthrospira platensis), organic chlorella extract* (Chlorella vulgaris), organic yeast extract* (Saccharomyces cerevisiae), organic mango fruit extract* (Mangifera indica), organic mung bean sprout extract* (Vigna angularis), organic basil leaf extract* (Ocimum sanctum), organic shiitake extract* (Lentinula edodes), organic lemon peel extract* (Citrus limon), green algae extract (Dunaliella salina), organic curry leaf extract (Murraja koenigii), organic sunflower seed extract* (Helianthus annuus), organic annatto seed extract* (Bixa orellana), organic coconut juice and milk extract* (Cocos nucifera), organic spinach leaf extract* (Spinacia oleracea), organic carrot extract* (Daucus carota), organic moringa leaf extract* (Moringa oleifera), organic lichen extract* (Cladonia rangiferina), organic parsley leaf extract* (Petroselinum crispum), organic green tea leaf extract* (Camellia sinensis), organic turmeric extract* (curcuma longa L.), organic black pepper extract (Piper nigrum), capsule: hydroxypropylmethylcellulose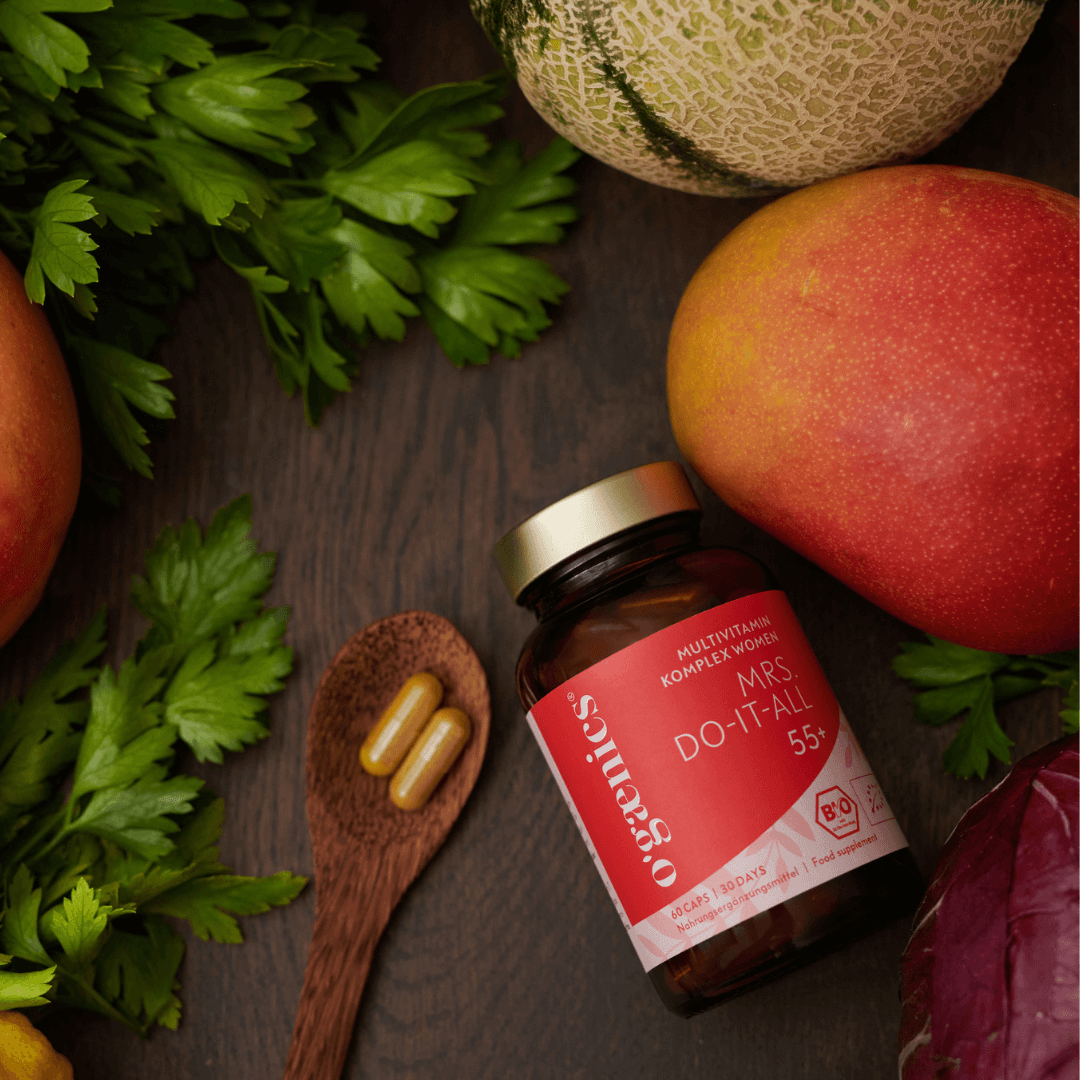 You probably have a few questions about Mrs Do-It-All Organic Multivitamin for Women 55+.
Learn all about our plant-based Ogaenics organic supplements or send us your inquiry to hello@ogaenics.com. We are happy to help.
The growth of intensified agricultural practices has led to a gradual decrease in the quantity of essential nutrients, such as selenium, in our soils. As a result, even the freshest fruits and vegetables are deficient in certain vitamins and minerals.
Multinutrients like those contained in our MRS DO-IT-ALL organic multivitamin are especially useful. Especially if you lead an active life style or experience high levels of stress. They are the perfect choice if you have little time to eat a fresh and balanced meal three times a day. In addition, they are excellent for replenishing our nutrient levels, which are negatively affected by the consumption of medications, alcohol and environmental pollutants.
What our customers say about Mrs Do-It-All 55+ | Organic Multivitamin Complex 55+