Strengthen your immune system with just one capsule per day
BODY GUARD by Ogaenics is your pure plant-based organic food supplement with all the essentials that a strong immune system needs. Carefully formulated, additive-free, non-GMO and 100% vegan.
Improve your defenses
BODY GUARD by Ogaenics provides the all-inclusive package for a strong immune system with the most important immune-boosting natural organic nutrients such as vitamin C and zinc, as well as organic superfoods and organic antioxidants.
Sometimes less is more
With just one capsule in the morning, taken with a glass of water at breakfast, BODY GUARD by Ogaenics provides the perfect basis for a strong defense system.
Designed for you
When your immune system is out of balance, and you take on every infection or suffer from allergies, this is when you need extra support. BODY GUARD supports you with high doses of vitamin C and zinc, organic maitake mushrooms containing 30% polysaccharides (e.g. beta-glucan) and anti-oxidative organic matcha.
Organic and easily absorbable
All ingredients contained in BODY GUARD are certified organic and therefore free of pesticides or other harmful substances. Ogaenics organic nutrients are recognized by the body as food and are therefore transported into the bloodstream faster and are tolerated more easily.
How to take our Body Guard Organic Immunity Komplex
How to use
Take one capsule of Body Guard daily in the morning or at noon with a glass of water and with a meal. Do not exceed the recommended daily intake.
How to combine Body Guard
BODY GUARD plays nicely with all other Ogaenics products. Maximize results for your immune system by combining BODY GUARD with HELLO SUNSHINE Organic Vitamin D3 Komplex 2,000 I.U. and LOVE YOUR GUT Daily Biotic Komplex.
Note: Food supplements are not a substitute for a balanced, varied diet and a healthy lifestyle. If you are taking medication or are under medical supervision, please consult a physician before taking any food supplement. Not suitable for pregnant women. Keep out of reach of young children. Store the closed container in a cool (< 25° C), dry place.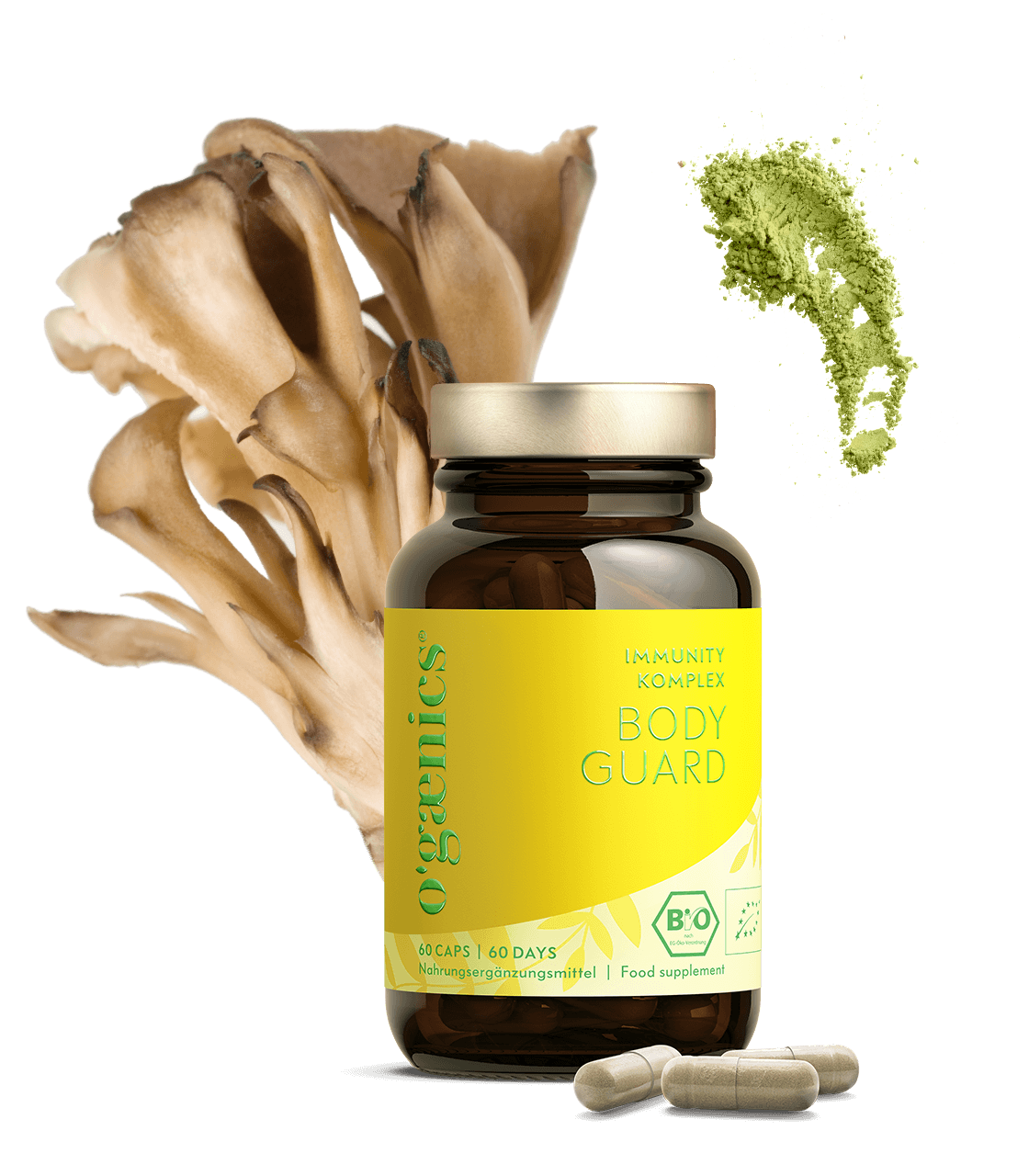 You probably have a few questions about Body Guard
Learn all about our plant-based Ogaenics organic food supplement or send your inquiry to hello@ogaenics.com. We will be happy to help you.
We do not recommend this formula during pregnancy. To support your immune system, you can take for example HELLO SUNSHINE Vitamin D3 Komplex 2,000 I.U. during pregnancy.
We do not recommend Body Guard while breastfeeding. To support your immune system, you can take HELLO SUNSHINE Bio Vitamin D3 Complex 2,000 I.U. during breastfeeding.
What our customers say about Body Guard | Organic Immunity Komplex